April 9, 2021
The OTR Sidewall Protector: Engineered to Protect Your Investments
Damaged sidewalls are a struggle mine, quarry, and recycle plant operators all face. Depending on severity, damaged sidewalls render vehicles unsafe to operate, leading to unscheduled downtime, lost revenue, labor repairs, and more. This all comes at a substantial expense, as tires on earthmoving machines carry a price tag of $10,000 apiece, sometimes more. With this in mind, Argonics engineered a product to help solve these issues: The OTR (Off the Road) Sidewall Protector.   
Launched in 2019, the OTR sidewall protector arose from a need in the market: limited options for off-the-road tire protection. The few solutions available at that time typically used a one-piece, rubber construction – cumbersome, and not as cut or tear resistant.
After studying the abuse that off-the-road tires take in these harsh environments, the Argonics research team identified that polyurethane would be a perfect fit for this application. With high cut and tear resistant properties, we knew polyurethane would outperform any other material on the market for OTR tire protection.   
This product is designed as a sacrificial part, meaning, it's meant to take the abuse in harsh environments so your equipment stays up and running.
Unique, Segmented Panel Design 
Along with polyurethane's cut and tear properties, the Argonics OTR sidewall system is easy to install and change out. The segmented panel design bolts into a custom mounting flange. If a panel is destroyed or sacrificed, repair is as simple as replacing a single panel, rather than the entire one-piece sidewall shield found in other tire protection systems. The engineered mounting system keeps weight off the mounting bolt, allowing the polyurethane and the tire flange to absorb the load so the mounting remains intact. The panels feature a cavity, which allows for tire bulging that occurs when equipment is loaded with material.
Engineered for Cost Effectiveness
Another key benefit unique to the Argonics OTR sidewall protection system is the ease of installation and replacement. Once the new tire-mounting flange is fitted, installation of the panels takes only minutes and requires minimal maintenance. The bolts require a re-torque after 15 to 20 hours of use, similar to car wheels.
Sizes Currently Available 
(More upon request)
• 29.5R25
• 35/65R33
• 45/65R45
• 875/65R29
Since 2019, the OTR Sidewall Protector has extensive field testing and engineering improvements. A recent customer had this to say: 
"They are awesome, they work wonders. The loader operator hit a rock about the size of two of the tires in the loader. Hit hard enough to throw him from the seat. It broke two protectors, but did not affect the tire or rim. Highly recommended. We tried another brand and it didn't last 500 hours. Yours are going on 1500 and still holding strong. Keep up the good work."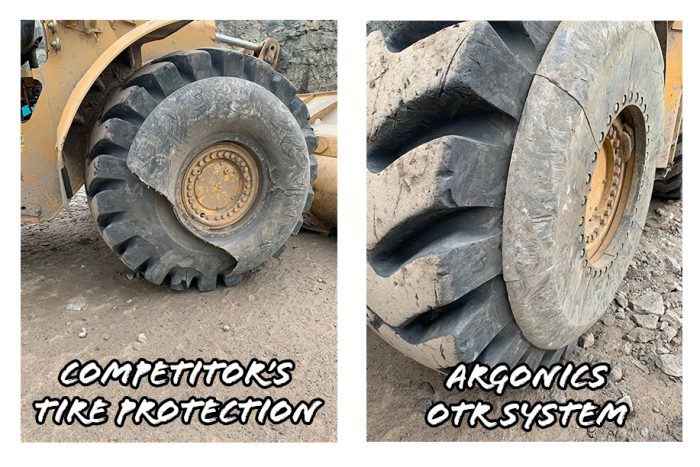 Watch our latest video on the OTR Sidewall Protector here:
 

 

Tags: bulk material handling, mining, polyurethane, sidewall protector