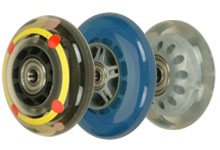 Kryptane® industrial use skate wheels are the result of more than twenty years of producing roller skate, skateboard, and inline skate wheels.
Our urethane wheels have stood up to the abuse of several generations of skateboarders and inline skaters throughout the world in any condition imaginable. Kryptane wheels have been proven to out-perform all of the less expensive rollers on the market. Put our made-to-order capabilities to use for your next application.
These products have found their way into many non-recreational applications where their low rolling resistance, high load carrying capacity, extreme durability, and range of sizes have allowed our customers to increase production and decrease operating costs.
Like all of our made-to-order products, industrial use skate wheels can be made to fill a wide range of requirements.
Diameters from 1.75 inch to 3.00 inch
Wheel width: .937 inch
Bearing bore: .250 inch with bearing spacer, .312 inch without bearing spacer
Load capacity of standard industrial skate wheels: up to 200 pounds per wheel
Custom-designed wheels can have loads of 2000+ pounds per wheel
Applications include:
Luggage rollers and wheels
Heavy duty conveyor wheels
Guide wheels
Wheelchair wheels
Cart wheels and casters