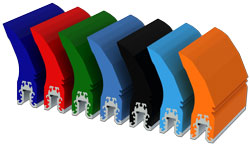 Argo Fact: We poured 34,500 replacement blades in 2015.
The primary and secondary replacement blades from Argonics are specifically engineered to eliminate carryback by removing debris from the belt's surface.
They are designed to fit most belt cleaning systems on the market. They are the only belt cleaning blades in the world made with Kryptane® polyurethane, the most abrasion-resistant, longest wearing urethane available. Kryptane blades are field-tested and proven to withstand the most severe conveying environments around the world, outlasting any other polyurethane blade by a 2-to-1 margin.
Benefits:
Our best Kryptane® polyurethane formula
Direct retrofit – no adaptation necessary
Heavy duty extruded aluminum insert
Raptor primary and AccuFlo secondary blade designs
FDA food-grade and MSHA-approved formulas
Typically two-to-one wear life over OEM blades