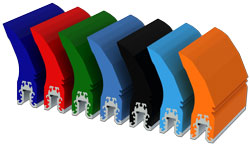 The primary and secondary replacement blades from Argonics are specifically engineered to eliminate carryback by removing debris from the belt's surface.
They are designed to fit most belt cleaning systems on the market. They are the only belt cleaning blades in the world made with Kryptane® polyurethane, the most abrasion-resistant, longest-wearing urethane available. Kryptane blades are field-tested and proven to withstand the most severe conveying environments around the world, outlasting any other polyurethane blade by a 2-to-1 margin.
Benefits:
Our best Kryptane® polyurethane formula
Direct retrofit – no adaptation necessary
Heavy duty extruded aluminum insert
Raptor primary and AccuFlo secondary blade designs
FDA food-grade and MSHA-approved formulas
Typically two-to-one wear life over OEM blades
| Formula/ Durometer Color | Application | Material | Min Temp | Max Temp |
| --- | --- | --- | --- | --- |
| | Normally used for extremely wet applications, sands & fines | Lots of liquid on belt, sand or slurry | -40°F | 180°F |
| | Good for wet applications with any pH level | Fine particles including sand, grain, 3/8" minus washed materials | -40°F | 225°F |
| | Our standard, high abrasion-resistant all-purpose cleaning blade | Most sand and gravel materials, coal, ores | -40°F | 225°F |
| | Good for dry applications with any pH level | 1-1/2" washed/finished product. Wood chips, cement, limestone, grain, sugar, clay or other sticky material | -20°F | 225°F |
| | Our high temperature cleaning blade | Extremely coarse aggregate, asphalt, recycled materials, glass, higher temp, sticky applications | -20°F | 250°F (up to 300°F intermittent) |
| | Flame-retardant, anti-static cleaning blade. Argonics is one of the only blade manufacturers in the US to offer this formula | Coal mining and coal-fired power plants | -40°F | 225°F |
| | MSHA approved, FrontLine® flame-resistant cleaning blade | Flame retardant urethane (can be any durometer or formula) | depends on durometer | depends on durometer |
| | Good for very cold, winter applications or frozen materials | | depends on durometer | depends on durometer |
We also sell Doctor Blades for use on a filter press. Please contact us for more information.