OTR Sidewall Protector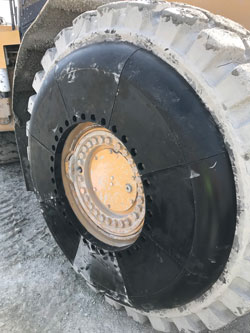 Protect your tires from the harshest environments with the Argonics OTR Sidewall Protector.
Made from durable, specially formulated polyurethane, the unique design helps keep your tires safe from puncture and other damage.
Benefits:
Withstands extreme conditions
When tested in some of the most challenging quarry conditions, the OTR Sidewall Protector significantly reduced stress and damage to tires.
Cost effective and reduces downtime
The OTR Sidewall Protector safeguards tires from puncture and severe damage, helping to maximize your equipment investments and reduce time and money spent on repairs.
Unique design
The patent-pending OTR Sidewall Protector is unlike other tire protection systems on the market. The modular system makes replacing a damaged part much more cost effective than the competitors' one-piece design.
The sidewall protector is currently available for sizes 29.5R25, 35/65R33, 45/65R45, and 875/65R29, with more sizes coming soon.
---
Haul Truck Bed Liners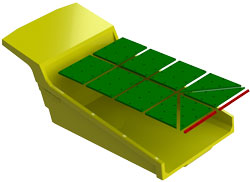 Argonics' polyurethane haul truck bed liners absorb shock and protect the truck bed from damage and wear. Polyurethane liners outlast rubber and steel and install more quickly than AR steel liners.
3" thick polyurethane reinforced with 1/4" steel for increased durability
Available for v-bottom, dual slope, and flat bottom beds
Install with supplied weld studs
Comes with Snap-Tite plugs to cover and protect bolts
1/8" reinforced steel tail support
Side liners also available