Classifier Parts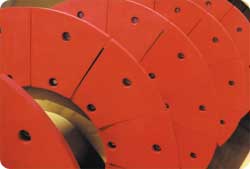 All classifier parts are easy to handle, lightweight, resistant to corrosion and available for a broad range of equipment.
Shoes
Downcomer spouts
Valve seats and seals
---
Screen Deck Parts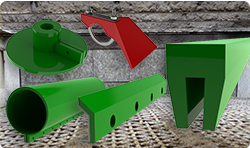 We have a variety of reliable, long-lasting screen accessories to meet your needs, including:
Crown bar channel cover
Coated bolts
Spray deflectors
Nut protectors
J-blocks
Screen deck shaft tube covers
Screen spray pipe protectors
Urethane-lined pipe
Kryptane® polyurethane is resistant to corrosion, easy to handle and lightweight.
---
Haul Truck Bed Liners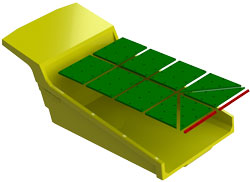 Argonics' polyurethane haul truck bed liners absorb shock and protect the truck bed from damage and wear. Polyurethane liners outlast rubber and steel and install more quickly than AR steel liners.
3" thick polyurethane reinforced with 1∕4" steel for increased durability
Available for v-bottom, dual slope, and flat bottom beds
Install with supplied weld studs
Comes with Snap-Tite plugs to cover and protect bolts
1∕8" reinforced steel tail support
Side liners also available