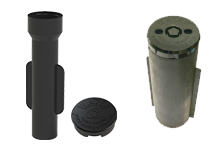 Argonics' Speedy Sleeves are specifically engineered for ease of installation, access and maintenance.  Our polyurethane will not corrode, remains pliable and is not susceptible to damage due to impact.  The patent-pending design provides an easy solution for accessing the shut-off rod; no more breaking lids or tapping pipes!
Tap-on repair sleeve allows for quick repair and easy access
Embedded magnet assures locating with ease when buried
Snap-in cap removes easily with a flathead screwdriver
Polyurethane sleeve slides tightly onto pipe and seals out debris
Available in buffalo-style with corrosion-resistant threaded cap
Argonics' Speedy Sleeves are available to purchase online from one of our distributors, ETNA Supply.
Speedy Sleeve Install Video