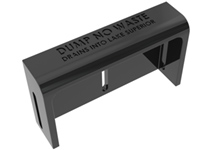 The Argonics Curb Inlet Hood has proven to withstand direct hits from plow blades – they do not break or shatter like the cast iron parts they replace.
Our Curb Inlet Hoods that were installed in 1997 are still in place and have needed no repair or replacement, unlike the cast iron versions which were replaced annually.
Polyurethane absorbs shock produced by the impact of the plow blade
Significantly lighter than cast iron – 22.5 lb. compared to 136 lb.
Reduced cracking of adjacent concrete curbs
Resistant to oils, greases and gasoline.