Typical Applications
Bins
Hoppers
Turnheads
Chutes
Discharges
Benefits of Argonics Liners:
Incredibly high split-tear resistance
Extreme wear resistance
Reduced product adhesion due to low coefficient of friction
High oil and grease resistance
Not susceptible to thermal expansion
Flexibility aids in proper fit
Elastomeric properties reduce breakage of and damage to the conveyed product
Kryptane® Sheets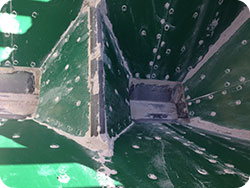 Kryptane urethane sheets are available in standard 4'x8′, 4'x10′, 5'x8′, and 5'x10′ sizes from 3/16″ to 1″ thick.
Sheets can be made in plain, fabric backed, expanded metal backed, solid metal backed, and weldable configurations.
Options for installation include adhesive, welding, and a variety of common fasteners. Argonics also offers Kryptane urethane-capped bolts that can be used in conjunction with our universal counterbore tool.
Custom liners are available for quotation, made to the dimensions of your chute, bin, or hopper. Our custom liners can save you hours of labor usually spent cutting and fitting sheets in the field.
---
Rolls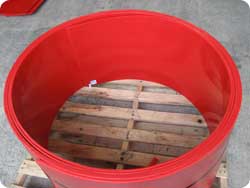 Kryptane® urethane liners are also available in 4- and 5-foot wide rolls, with lengths of 25, 50, 75, and 100 feet.
Backings available are plain (25′ and 50′) and fabric, with thicknesses from 3/16″ to 1″.
---
Liners with Wear Indicator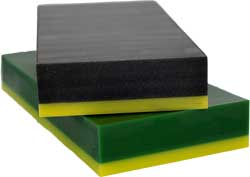 Wear indicator is available on all sheets 1/2″ thick or thicker. The 1/4″ thick contrasting color wear indicator allows you to quickly identify when it is time to replace them.
Available in any of our formulations, the wear indicator layer will be the same durometer urethane as the rest of the sheet. Our liners are available in standard size sheets or custom sizes, on any of our backings including fabric, expanded, weldable or solid metal.
With these versatile and long-lasting liners, you can have peace of mind knowing that your equipment is in good hands!
---
Foldable Liners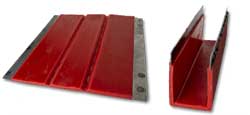 Argonics foldable liners are available in thicknesses of 1/4″–1″ thick and come with an expanded metal back that adds rigidity and helps to keep seams secure. The standard R80 formulation is available, with other formulations upon request.
The liners are lightweight, easy to install, and provide excellent abrasion resistance. Additionally, the liners are designed to reduce noise, making your work environment quieter.
The liners are shipped flat, allowing you to easily bend them on-site. This feature ensures that there is zero waste, making it an environmentally friendly solution. The liners are easy to drop into place, and the 1/2″ wide weld strip ensures that the installation is secure.