Typical Applications
Chutes
Distributors
Elbows
Spouts
Screw/Drag Conveyor Troughs
Belt Wipers and Skirting
Head Sections
Transitions
Benefits of Kryptane® Xtreme™ and Blue Ox™:
Custom liners/sizes
Custom ceramic liners
Long-standing industry success
Proven performance
Variety of backing options
Light-weight, flexible and easy to install
Provides excellent abrasion resistance
Kryptane Xtreme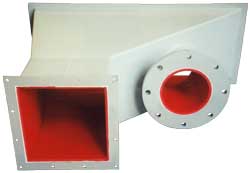 Standard sizes are 4'x8′, 4'x10′, 5'x8′ and 5'x10′, in thicknesses from 3/16″ to 1″.
Backings for Xtreme sheets are plain, fabric-backed, expanded metal and solid metal.
Options for installation include adhesive and a variety of common fasteners, including our coated bolts.
Custom liners are available to fit your specific application.
Roll Specifications:
Widths: 4′ and 5′ wide
Lengths: Plain-backed – 25′ and 50′; Fabric-backed – 25′, 50′, 75′,
and 100′
Thickness: from ¼" to 9/16″
---
Blue Ox™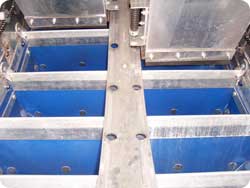 Blue Ox sheets are specifically formulated for the agriculture industry and are perfect for areas where fine particle abrasion is a concern. This economically priced sheet is made using a special ether-based formulation that will resist humidity and offers excellent abrasion resistance.
Standard sizes are 4'x10′ and in thicknesses from 1/4″ to 5/16″.
Backings available for Blue Ox are plain and expanded metal.
For installation, we recommend adhesive or our coated bolts.
---
Front Line™ Fire Safe Urethane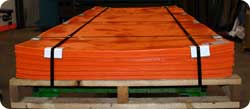 Front Line is a formulation that will not feed a fire. This proven flame retardant formulation comes in safety orange for high visibility.
– Approved: MSHA IC-192/0

---
Magnetic Patches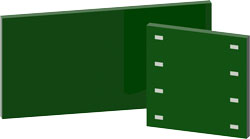 Our magnetic patches are made with our proven Kryptane® polyurethane and will outlast most any other wear product available today. Easily seal worn areas in chutes, walls, and many other spots. Strong rare-earth magnets hold the patches in place, allowing for quick and easy install.
Patches available in 1/2″ thick in sizes:
6" x 6"
6" x 12"
12" x 12"
12" x 24"
Custom sizes also available