The Argonics Speedy Sleeve Poly Curb Box System was designed to keep inventory space to a minimum.
The universal system is manufactured using corrosion-resistant polyurethane and durable PVC pipe that can be easily adjusted. Featuring the same technology as our Speedy Sleeve Repair Sleeve, the polyurethane cap has an embedded magnet and allows for easy tracer wire installation.
Available in Arch or Minneapolis styles
Manufactured with corrosion-resistant materials
Requires minimal inventory space – no need to store multiple sizes.
Universal system reduces stock requirements
Designed for Northern climates, but can be used anywhere there is a buried water line below frost grade
Height can be adjusted in seconds to grade level
Can be installed in concrete sidewalks and driveways
---
Speedy Sleeve Polyurethane Repair Sleeve
Tap-on repair sleeve allows for quick repair and easy access
Embedded magnet assures locating with ease when buried
Snap plug cap system with notches for easy removal with a flat-head screwdriver
Polyurethane sleeve slides tightly onto pipe and seals out debris
Easy tracer wire attachment
PVC Extension Pipe
Will not corrode like its cast iron counterpart
Less expensive to buy, install and repair than cast iron
Readily available at home improvement and hardware stores
Won't interfere with the valve
Repairs can be easily made by cutting the pipe, inserting a coupling and attaching a new piece of PVC
Polyurethane Curb Box
Available in Arch or Minneapolis styles
Corrosion-resistant
Rod-centering design
Protects against impact damage to the valve
Easy tracer wire attachment
Fits 1 1∕2" Schedule 80 PVC

---
Arch Style Poly Curb Box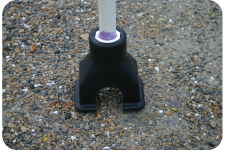 Our corrosion-resistant arch style curb box covers the valve but does not connect mechanically. The flexible polyurethane will protect the valve and will absorb any pressure from above.
Universal base inhibits pipe from twisting and moving
Designed to fit the most common types of valves (Mueller, A.Y. McDonald, Ford or Redhead)
Keeps box in line during installation
Conforms better to the valve
Available sizes: 3∕4" and 1" valves
---
Minneapolis Style Poly Curb Box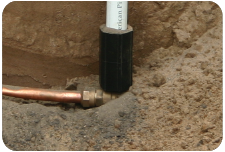 Our Minneapolis style curb box has a PVC threaded insert that protects the valve from corroding and ensures alignment of the valve and the box.
Corrosion-resistant threads
Protects against impact damage to the valve
No wrench needed to install – can be tightened by hand
Available in 1-1/2" thread
---
Speedy Sleeve System Install Video: