July 18, 2023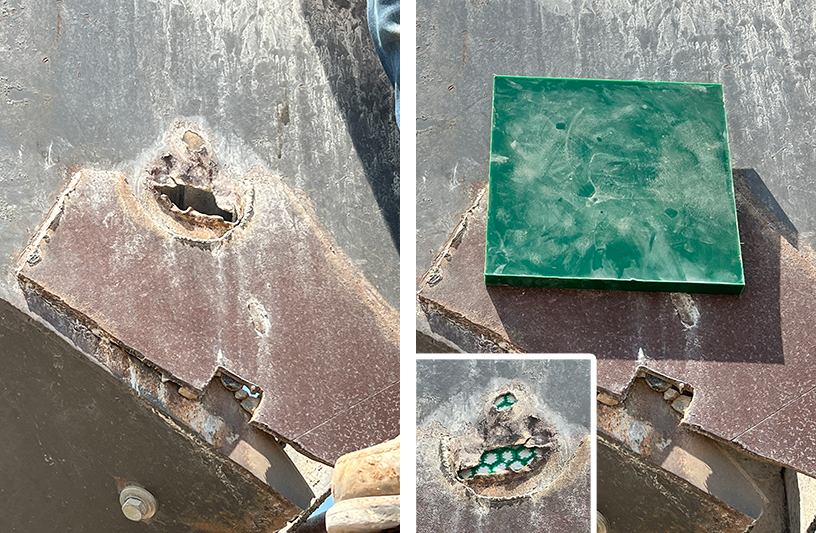 Magnetic Ceramic Patches: A Quick and Effective Solution for Your Worn Metal Surfaces
In industrial operations, maintaining the integrity of metal surfaces is crucial to ensuring the smooth and efficient flow of materials. Over time, however, wear and tear can lead to holes, cracks, and other forms of damage that can disrupt your processes and even pose safety risks. That's where our magnetic ceramic patches come in. Designed for temporary material containment, these patches can be easily installed onto worn metal surfaces, providing much-needed support until repairs can be scheduled. Our magnetic ceramic patches are an essential addition to your maintenance toolkit.
Features of Our Magnetic Ceramic Patches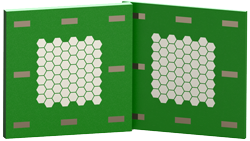 Our magnetic ceramic patches offer a unique combination of flexibility, durability, and ease of installation. Let's take a closer look at their key features:
– Dimensions: Each patch measures 12″ x 12″, making them suitable for a wide range of applications.
– Thickness: Available in thicknesses of 1/2″ and 1″, our patches cater to different surface contours and requirements.
– Durometer: The 1/2″ patch has a softer 69 durometer, making it perfect for smaller holes and finer material, while the 1″ patch has a standard 83 durometer for added rigidity and toughness for larger holes and material.
– Hextile Ceramics: The hextile ceramics face the worn spot, providing extra protection against abrasive materials.
– Rare Earth Magnets: Powerful neodymium magnets securely hold the patches in place, eliminating the need for welding, gluing, or bolting.
Effortless Installation and Maintenance-Free Solution
One of the key advantages of our magnetic ceramic patches is their ease of installation. Thanks to the high-strength magnets, you can quickly and efficiently attach the patches to any worn steel surface without the need for any additional tools or equipment. Furthermore, these patches require no maintenance, allowing you to focus on more critical aspects of your operation.
Temporary Support for a Variety of Applications
Our magnetic ceramic patches are designed to provide temporary support in various industrial settings until scheduled repairs can be conducted. They are particularly well-suited for:
– Covering holes in contoured walls or chutes
– Protecting against abrasion in high-wear areas
– Remaining in place on vibrating applications
Whether you're dealing with worn spots in your walls or chutes, or need extra protection against abrasive materials, our magnetic ceramic patches are the ideal solution.
Choose Argonics for Innovative and Cost-Effective Solutions
At Argonics, we pride ourselves on our expertise and commitment to providing high-quality, cost-effective solutions for our customers. Our magnetic ceramic patches are just one example of the innovative products and services we offer to help your customers maintain the efficiency and safety of their operations. With our industry-specific knowledge and technical know-how, you can trust us to deliver the solutions you need to stay ahead of the competition.
Invest in Our Magnetic Ceramic Patches Today
Don't let worn metal surfaces disrupt operations or pose safety hazards. Invest in our magnetic ceramic patches for a temporary, easy-to-install, and maintenance-free solution that will provide vital support until scheduled repairs can take place. Contact us today to learn more about how our magnetic ceramic patches can benefit you or your customers and get a quote for your specific requirements.

Tags: argonics, company news, wear liners