Load Zone Containment Liners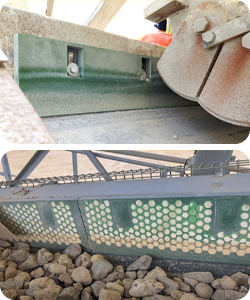 Designed to do one thing and to do it well: contain material at the transfer points on your belt line. Extra-rugged reinforced design with 3/16″ steel insert. Available in either polyurethane only or with ceramics.
All containment liners come with polyurethane Snap-Tite™ plugs that cover the mounting slots in the liner and prevent material build-up.
Polyurethane containment liners are available with either a straight or 20° beveled edge, in 60″ and 96″ lengths. Varying heights and thicknesses available.
Ceramic-embedded liners are available with flat, 20° or 35° beveled edges, in lengths of 48″ or 60″. The 1″ thick liner uses hextiles and the 2″ thick uses cubes.
---
Polyurethane Belt Skirting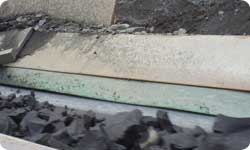 Argonics' KS01 (standard) urethane skirting started the trend toward urethane as a skirtboard solution. KS01 skirting fits into any other manufacturers' existing skirtboard clamping systems on the market today, as well as Argonics' own Wedge-Loc clamp, making it a snap to replace your old skirts.
---
Snap-Loc™ Dust Seal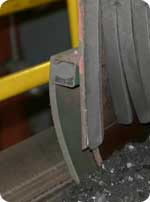 Snap-Loc is the standard for dust containment skirting. This straightforward, no-nonsense design for dust control snaps into standard unistrut railing that can be bolted or welded into place.
A single pin at the tail end of the conveyor holds the skirting in place and the natural travel of the conveyor belt tensions the skirting, so there is no need to readjust it, saving you hours in maintenance costs.
Snap-Loc skirting is also available with a cavity, for use on high-speed belts.
---
Duo Seal™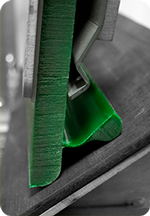 The Duo Seal is the newest skirting offering from Argonics. Its 100% urethane construction fits into most manufacturers' clamping systems, including our Wedge-Loc clamp.
The Duo Seal's flexible secondary seal conforms to the belt and keeps dust and material under control. Its compact, smaller footprint requires less belt on the outside of the conveyor in order to install it.
---
Fold-n-Seal™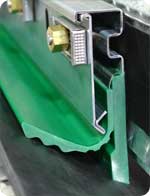 Fold-n-Seal gives you the best of both worlds: material and dust containment in one unique solution. The primary seal keeps the material where it should be: on the belt. The secondary seal keeps dust and particulate material under control.
Fold-n-Seal is available with Argonics' easy-to-use Wedge-Loc clamping system and is designed to work with almost all existing skirtboard clamping systems on the market.
---
Wedge-Loc™ Clamp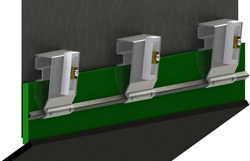 Wedge-Loc is designed to be easy to install and adjust. Simply stitch weld or bolt into place, install your skirting, drop it to the belt, then knock the wedges to lock it down.
Use Wedge-Loc to replace your old busted or worn-out clamping systems and install your choice of skirting: Fold-n-Seal, Duo Seal, or KS01.
The Wedge-Loc frame is made of 12-gauge galvanized steel and the clamping utilizes a stainless steel-to-brass thread contact, coupled with a cast aluminum wedge to ensure continuous operation in the most corrosive and abusive environments.
Argonics Conveyor Belt Skirting Systems are protected by one or more of the following patents: 6,547,062; 7,484,617.