Redi-Liner Ceramic used in Mexican Gold Mine
Details:
| | |
| --- | --- |
| Product: | Redi-Liner Ceramic Modular Lining System |
| Product Category: | Flow & Anti-Wear |
| Location: | Durango, Mexico |
| CONVEYED MATERIAL: | Crushed ore, 1∕2" (13mm) and smaller |
| Rate: | 1,324 tons per hour |
| Installation Date: | April 2019 |
Problem Description:
A gold mine in Durango, Mexico installed two Argonics Redi-Liner Ceramic panels alongside two rubber ceramic panels in the discharge chute of a transfer conveyor.
Resolution: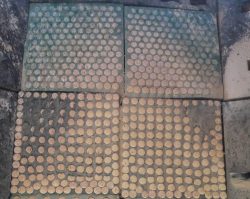 After one month, the panels were compared. As seen in the photo on the left, the Argonics panels (top) showed much less wear than the rubber panels (bottom).
The customer was extremely happy with the performance of the Argonics panels and has decided to enter them in their system as the standard for all the transfer conveyors at the leach pad.