March 1, 2021
The Redi-Liner Advantage
One of the biggest headaches facing any operation is wear issues in and around transfer points.
Aggressive materials passing through chutes and transfer zones often destroys the metal, resulting in damage to expensive equipment, along with fugitive material, and extra, unplanned time to clean it up.
What can you do to prevent this wear and tear, and save yourself time and expense?
The most common solution is wear plates or panels. A frequent material used for these panels is Abrasion Resistant (AR) steel. It might work fine in certain applications, but before long, steel wears through. Argonics has a better, longer-lasting solution with its large selection of polyurethane modular panels.
Available in a variety of different attachment methods – weldable, boltable, or magnetic – it's easy to find something to suit your maintenance preferences.  Panels come in a wide range of durometers (hardness) and formulations to provide the best resistance to abrasion, based on the type of material you're processing. The addition of ceramics embedded in the polyurethane offers even more protection in high-impact areas.
Create the liner you need, where you need it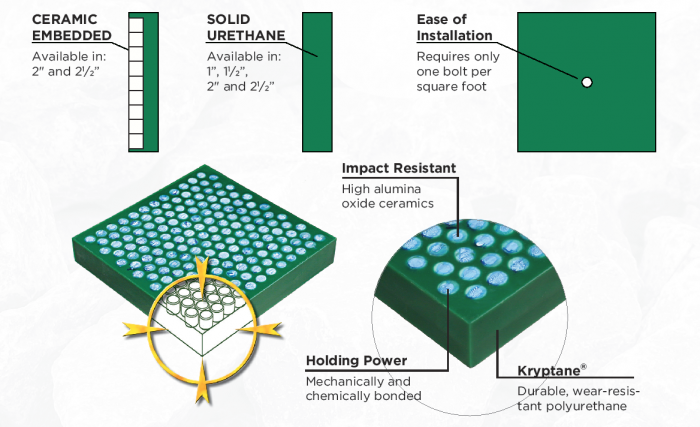 Argonics' line of modular wear panels gives you the flexibility to customize the installation of the panels to maximize the abrasion resistance for your specific application. You can use ceramic-embedded panels in hot spots and main areas of impact, with polyurethane panels surrounding the outer edges.  By utilizing modular panels instead of a full liner, you only need to replace the worn panels, not the entire liner.
Options and sizes available
Panels come in sizes of:
6"x12"
9"x18"
12"x12"
12"x24"
Most sizes are available as either boltable, weldable, or magnetic backed.
•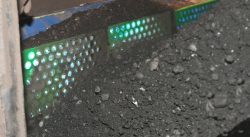 Argonics Redi-Liners are available in both solid polyurethane and with embedded ceramics. Redi-Liners are 12" x 12" panels that install using our unique Blind Threaded Nut Insert (B.T.N.I.), which requires only one hole per square foot. The panels can rotate to increase usable wear life.
Resources:
Redi-Liner brochure
Request a Quote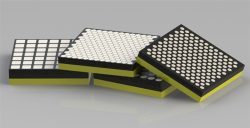 • Argonics' dual durometer ceramic Redi-Liner 12"x12" panels are a great option for product falling from greater heights. The panels have a layer of softer urethane on the back, which absorbs the impact, and a super tough, abrasion-resistant top layer that helps to settle the load and increase wear life.
Resources:
Dual Durometer Redi-Liner brochure
Request A Quote
•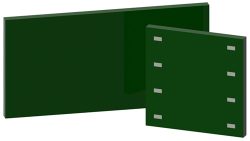 Magnetic panels are a newer offering, and are an even easier method of lining your chute. These panels are polyurethane only currently, available in 6"x6", 6"x12", 12"x12", and 12"x24".
Resources:
Magnetic Panel brochure
Request A Quote
What makes Argonics polyurethane panels a better solution than AR steel?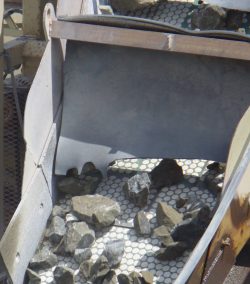 Polyurethane's high resilience/rebound properties absorb shock and impact. Polyurethane recovers quickly after impact and offers rebound values up to 40% – 70%. Because it is an elastomer, polyurethane has the ability to return to its shape after impact, whereas steel does not. Steel handles impact, but cannot compress and absorb shock the way polyurethane can, which is why it has a tendency to wear out faster.
Want more information?
Call Argonics at 800.991.2746 to speak to one of our knowledgeable technical sales staff, fill out our contact form, or click the chat button down in the right-hand corner.
CASE STUDIES
May 2018 – Mobile crushing and screening plant, New Zealand
Redi-Liners solved a major problem for a mobile plant stationed in New Zealand's South Island. The plant's high volume transfer zones originally had unprotected, 4mm thick steel plates in the transfer zones. Redi-Liners were recommended for installation in the impact zones of the high wear-prone chute and wall. Installation went smoothly and was quick, secure, and seamless because of the bolt-in system functionality in the Redi-Liners.
Read the full case study here.
January 2011 – Quarry in Wagga Wagga, New South Wales, Australia  
An aggregate producer in Australia faced impact issues in its screen load zone area. Before turning to Argonics products, they used hardened steel plating to cope with the high abrasion levels caused by a high volume of rocks. After installing Redi-Liners, productivity output rates increased because of fewer stoppages, which allowed the producer to meet customer demand quicker.

Read the full case study here. 

Tags: aggregates, argonics, bulk material handling, engineering, magnetic liners, mining, polyurethane, wear liners