October 1, 2015
Argonics Announces Innovative New Brush Cleaner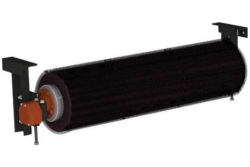 Sealed Van der Graaf drum motor operates at 96% efficiency, resulting in 30% energy savings.
GWINN, Mich. – October 1, 2015 – Argonics' new brush cleaner provides a completely reliable, less complex solution to removing residual materials from conveyor belts.
Argonics has partnered with Van der Graaf to offer the brush cleaner, a one-component conveyor drive, with the motor, gear reducer and all moving parts fully enclosed inside the drum. Argonics' simple tensioning system is easy to adjust as the bristles wear, to ensure effective cleaning.
The cleaner utilizes a completely sealed drum motor, which contains all motorized parts within the roller. Designed to increase operator safety, all moving parts, such as the gearbox, chains, motor, chain guard and pillow block bearings are eliminated. This containment also means that there can be a reduction in guarding around the cleaner.
The motor is virtually maintenance free, only requiring an oil change after 50,000 hours (5.7 years) of running non-stop, which can be performed without removing the drum motor. Van der Graaf drum motors operate at 96% efficiency, resulting in lower operating costs compared to conventional drives. This can result in energy savings up to 30%.
"Our brush cleaner offers a variety of advantages over most other brush systems sold by our competitors," said Bob Welker, Sales & Marketing Manager for Argonics. "By housing the motor inside of the pulley, our system eliminates the chance of oil leaking so no oil pan is required, freeing up floor space. So not only does it clean your belt exceptionally well, your plant is cleaner, too."
The brush cleaner is ideal for use on chevron or cleated belts or other environments where Argonics' urethane cleaners would not be used. Brush cleaner motor RPMs are matched to your belt speed to increase the wear life of the brush. Based on the new CEMA standards for belt cleaner ratings, the brush cleaner would be designated as up to a Class 4 cleaner.
The brush cleaner works well in both wet and dry environments and the drum motor warms the brush, allowing it to clean effectively in even the coldest environments.
Van der Graaf has been manufacturing drum motors for 30 years, and is an internationally known manufacturer of top quality power transmission equipment for the conveyor industry.
Founded in 1994, Argonics Inc. is one of the industry's largest producers of polyurethane products. With state-of-the-art production facilities in Gwinn, Mich. and Louisville, Colo., Argonics provides high-performance urethane solutions with its team of qualified personnel. The company has received many awards including the Award for Entrepreneurial Excellence and was named one of Michigan's Top 50 Companies to Watch. For more information, visit the brush cleaner product page.