October 1, 2020
Lining the Way
It's no secret — polyurethane is a versatile material. It stands up to abrasion, has a high load-bearing capacity, and is not susceptible to thermal expansion, which makes it a great choice for a variety of applications. 
Our sheet and liner products put polyurethane's abilities to the test in all of these areas. These products are used in many different industries, such as grain, aggregate, concrete, and mining. Depending on which industry the product is used in, you may hear it referred to as a "sheet" or a "liner," which can be confusing. Product specifications may vary by industry, like color, durometer (hardness of the product), and size. 
GRAIN INDUSTRY
In a grain application, a sheet product is commonly used in things like:
Chutes
Spouts
Screw/Drag Conveyor Troughs
Transitions
In the grain industry, high volume and abrasion are common occurrences. The sheets we manufacture specific to grain and agriculture are Kryptane Xtreme, which is red in color, and Blue Ox, which is blue in color, as the name suggests.
Kryptane Xtreme is perfect for chutes, spouts, and other high-wear areas. This product is FDA Drygood Handling approved. Kryptane Xtreme is available in a wide variety of sizes and is lightweight, easy to install, and flexible.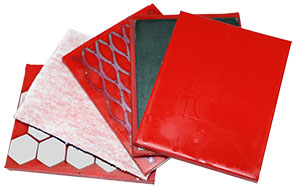 Blue Ox is our economically priced sheet, manufactured using a special ether-based formulation that will resist humidity and offers excellent abrasion resistance. Argonics ether liners have proven superior against hydrolytic attack. Ether has a slightly different chemical makeup compared to the standard ester liners and is substantially more resistant to hydrolysis.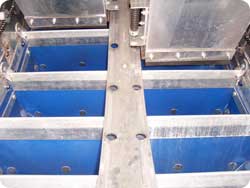 BULK MATERIAL HANDLING INDUSTRY
Our liners are often used in applications such as:
Bins
Belt transfer points
Hoppers
Turnheads
Chutes
Discharges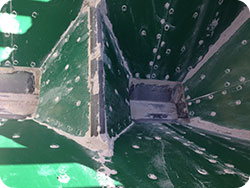 These are typical things you will find in concrete, mining, or aggregate plants. These industries often deal with impact, corrosion, sliding abrasion, and sticking material/material buildup.
Polyurethane liners are great for increasing wear-life in these applications, decreasing buildup, and they are easy to install. Liners in these industries are often located in tight or confined spaces. One of the attachment methods we offer is the ability to bolt the liners in, instead of welding, which helps with safety concerns when installing in a small space.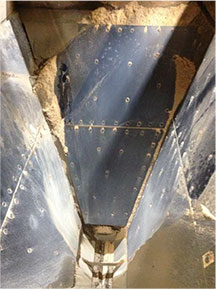 We also have the ability to create custom liners. These can be used anywhere our standard sheets don't fit, where weight and size are a concern, or where a long-term solution is needed. Our custom liners save hours of labor usually spent cutting and fitting sheets in the field. Pieces are manufactured to fit precisely together, leaving no wasted material, and making it easy to replace one piece at a time.

Watch John Sheahan, Technical Sales Rep. for Argonics, explain the difference between ether vs. ester sheets:

Tags: argonics, grain sheets, manufacturing, polyurethane, wear liners