July 23, 2019
The Argonics Solution for Acidic Soil Damage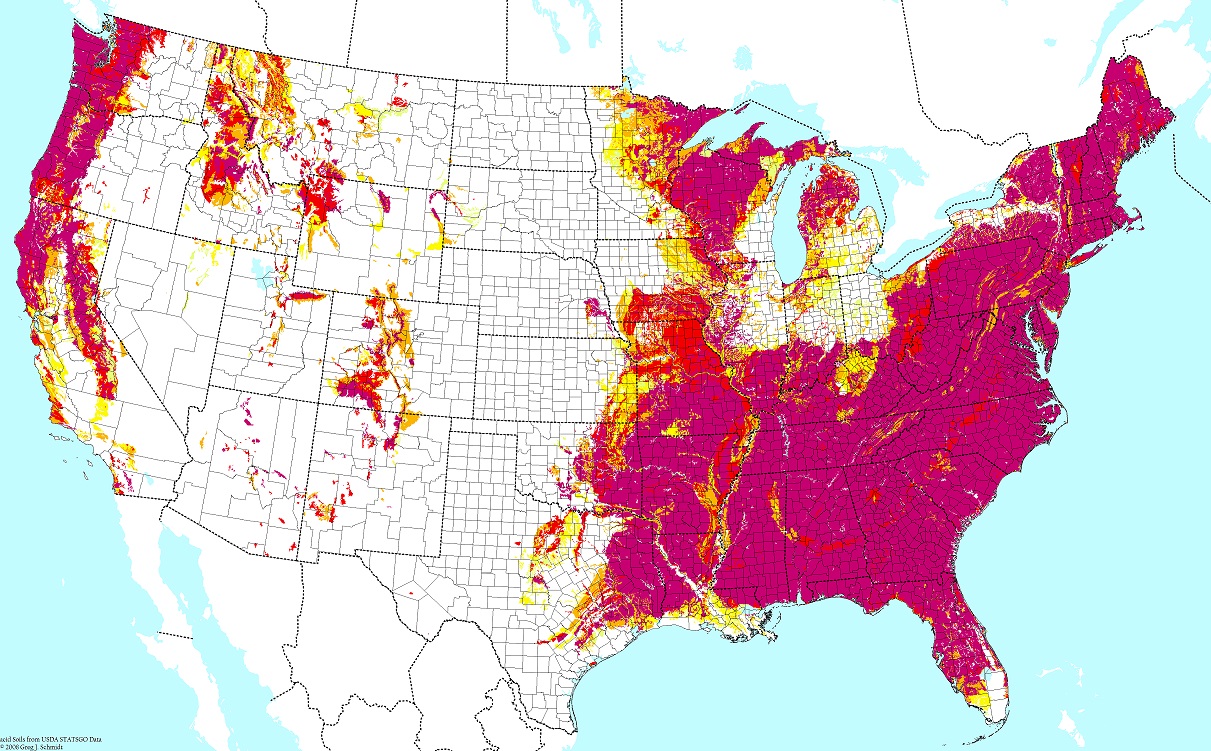 Photo: This map shows the prevalence of acidic soil throughout the United States. 
When you plant a garden, you know that soil pH is an important factor to consider to get the most from your plants. But did you know that soil pH is also an important consideration when it comes to planning and maintaining municipal waterworks infrastructure? 
WHAT IS ACIDIC SOIL?
Municipalities across the United States are challenged with combating the effects of acidic soil. A soil is characterized as acidic when it has a pH of 6 or less. When soils are at or below this level, pipes underground begin to deteriorate, creating issues for any system the pipes are connected to. Even coatings intended to protect these pipes begin to dissolve when soil pH reaches around 4. 
WHAT PROBLEMS DOES IT CAUSE FOR WATERWORKS SYSTEMS?
Water mains have a curb box that needs to be accessed to control the water supply from the water main to a building. Most curb box systems are made from cast iron, which has been the predominant material of choice for over a century in the water industry.  In acidic soil conditions, cast iron is subject to corrosion and pipes can rot quickly. This means municipalities are spending a significant amount of time and money to repair and replace areas of pipe on a regular basis.
HOW CAN ARGONICS HELP?
Argonics created the Speedy Sleeve poly curb box system. This system utilizes a polyurethane sleeve and off-the-shelf PVC piping. With no cast iron involved, the Speedy Sleeve can withstand the harsh effects of acidic soil. The system was designed with northern climates in mind, but can be used anywhere a water line is located below the frost grade.
Benefits include:
Light-weight
Requires minimal inventory space
Height can be adjusted in seconds to grade level
Can be installed in concrete sidewalks and driveways
To learn more about the Speedy Sleeve poly curb box system, CLICK HERE.
TESTIMONIAL
Argonics worked with the Waverly Sanitary District of Menasha, Wisconsin, to install the Speedy Sleeve poly curb box system. They were faced with an ageing water system buried in acidic soil, causing corrosion issues with curb box systems. Due to the severity of the deterioration, the district was replacing the curb boxes every 5-10 years. 
In the search for a solution, they contacted Argonics. 
"We liked it [the Speedy Sleeve] for the ease of installation, and being that it's a non-corrosive product. We have an electrolysis problem in the acidic soil here, and it eats up the pipe. Even though we put a stainless steel rod on it, that stainless steel rod doesn't do any good when you have a pipe that's rotting out where we can't get to it, and your product solves that problem for us." – Bob Krueger, Waverly Sanitary Distrcit
 

Tags: argonics, company news, public works