May 19, 2021
Benefits of Polyurethane Classifier Shoes
What They Do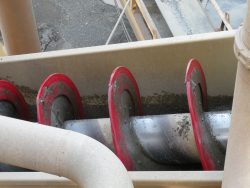 Sand and gravel plants around the world use classifier shoes in their operations. These plants wash fines (aggregates, sand, etc.), commonly producing products for the construction industry. Classifier shoes help protect metal surfaces during the washing, classifying, and dewatering process. Classifier shoes mount to an auger, protecting it from wear.
The shoes help blend and separate the fines from the target material sizes. Argonics classifier shoes are bi-directional, light-weight, and stand up to harsh wear. This article from Pit & Quarry university explains the process of washing and classifying in depth.
Benefits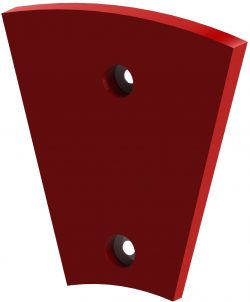 Abrasion Resistant

Kryptane polyurethane lasts up to four times longer than commonly used Ni-Hard shoes.

Formulated for Optimal Performance

Choosing the right formula for the application is essential for wear life and longevity. Argonics classifier shoes are made with an ether polyurethane formulation. This formula is engineered to be the best choice for both fine particle abrasion and resistance to hydrolysis, which is a common form of degradation of polyurethane due to exposure to moisture. The resistance to moisture is a key factor since classifier shoes spend a significant amount of time underwater during operations.

Bi-Directional

Alloy shoes are either made for right or left screws, not both, whereas polyurethane shoes can be used on either screw. The physical properties of polyurethane allow these shoes to flex, making them suitable for use on both sides.

Light-weight

Polyurethane weighs about seven times less than steel, which will extend the life of the bearings and reduce the strain on the motor. Less drag keeps your operation running smoothly and efficiently, leading to less downtime for repairs.
Custom Sizes and Retrofits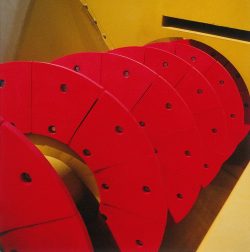 Argonics classifier shoes are available for most classification screws on the market. Custom sizes are available for quote by contacting an Argonics sales representative and by completing the product application guide.

RETROFITS INCLUDE:
• Akins • Blackstone • Cindaco • Denver • Eagle • Essco • Greystone
• Kolberg • Kolman • Metz • McLanahan • Nermco • Telsmith • Togenson
• Wemco

Download the classifier shoe brochure and then contact us for more information!

Tags: aggregates, bulk material handling, polyurethane